I am finally learning to use HTML. It isn't as hard as I thought, but I wish I'd learned it a long time ago.
I should have joined the computer club in high school, but it was all boys.
In college, the computer science lab smelled and was always strewn with gross food. Maybe if I had met Joe and Wes earlier, I could have learned to breathe through my mouth.
Did nerdy boys prevent me from learning? I don't think they really did.
I can create links too. Here is a photo of me eating a McFlurry at a really fancy McDonald's in London. They aren't more civilized than Americans, but their fast food restaurants are way prettier.
This is an iconic SF Giants photo of Buster and Brian. This was back in the day when Brian still played and wasn't recovering.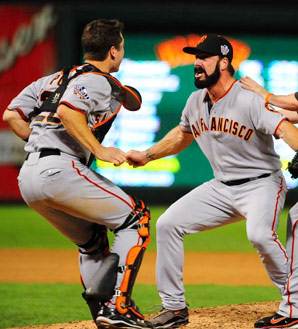 | | |
| --- | --- |
| Things I love | Things I hate |
| Candy | People who don't listen |
| Law and Order:SVU | That Eliot Stabler is gone |
| Dancing with my friends | When people dance with me and don't ask |
| The San Francisco Giants | The New York Yankees |
| Yosemite | The Civic Center |
| Chatting online with friends | Playing video games |
| Mad Men | How I Met Your Mother |
| Cleaning up | Cleaning up after my roommates |
I love to make lists. I like making lists more than I like most people. Now I can make them in HTML. It's, like, the most legit way to make them.
The Gold Rush

-something I learned too much about as a kid.

Live Oak School

-my first school. Only 20 kids a grade.

Contact Improv

-the worst class I took in college.

Dogs

-something I like way more in theory than up close.

Speaker toys

-a new collection that adds to people maybe mistaking me for kid.

Ohio

-a state where I lived for 4 year. I mostly miss its leaves and trees.

Ann Arbor

-my whole family went to school here, except me. I think that's okay.

Mice and rats

-my least favorite animals. The only thing that I have nightmares about.
A really cool form I made that to help a UCSF lab with a study they are working on. Please help the scientific community.